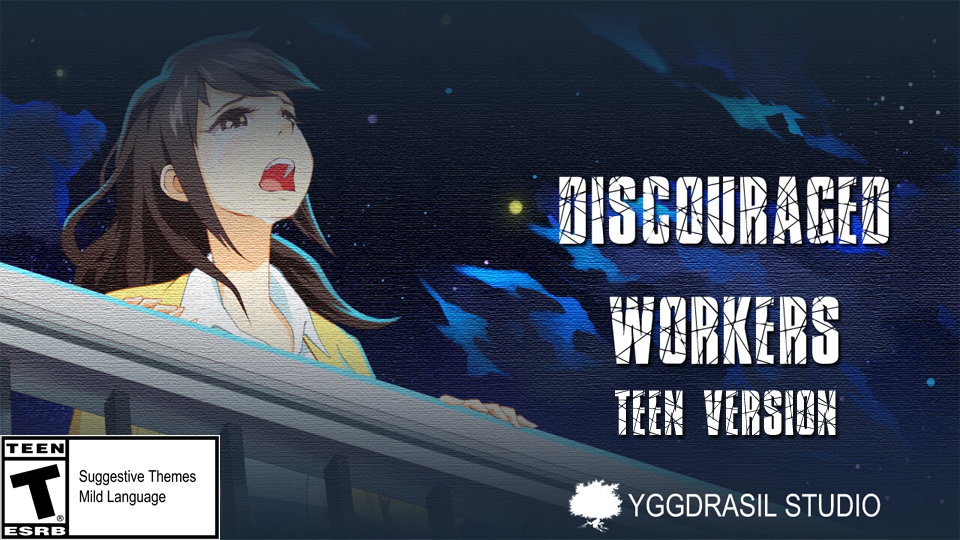 Discouraged Workers TEEN Version
Version 1.7.9.318 Minor Update
---

Recent changes:
Update: Version 1.7.8.814 > 1.7.9.318
Update: Ren'Py Engine Version 7.1.3.1092 > 7.2.1.457
Added: Codesign for macOS.
Added: Adaptive icon for Android.
Improved: A fullscreen will not minimize when the mouse changes monitors.
Improved: Set parameter values on some screens.
Fixed: Ga-yeon's walking animation on the bridge.
Fixed: Renamed function for the latest Ren'Py engine.
Fixed: A bug that could cause a transparent, black, or gray line to appear on the bottom line of a screen during a dissolve has been fixed.
Fixed: A case where rolling forward would fail is now fixed.
Fixed: A problem that prevented the Steam overlay from showing up on macOS was fixed.
Files
Discouraged Workers TEEN V1.7.9.318 for Linux(TAR.XZ)
150 MB
Mar 18, 2019
Discouraged Workers TEEN V1.7.9.318 for Mac(ZIP)
153 MB
Mar 18, 2019
Discouraged Workers TEEN V1.7.9.318 for Win(ZIP)
153 MB
Mar 18, 2019
Discouraged Workers TEEN V1.7.9.318 for Android Mobile/Tablet(APK)
156 MB
Mar 18, 2019
Get Discouraged Workers TEEN Version