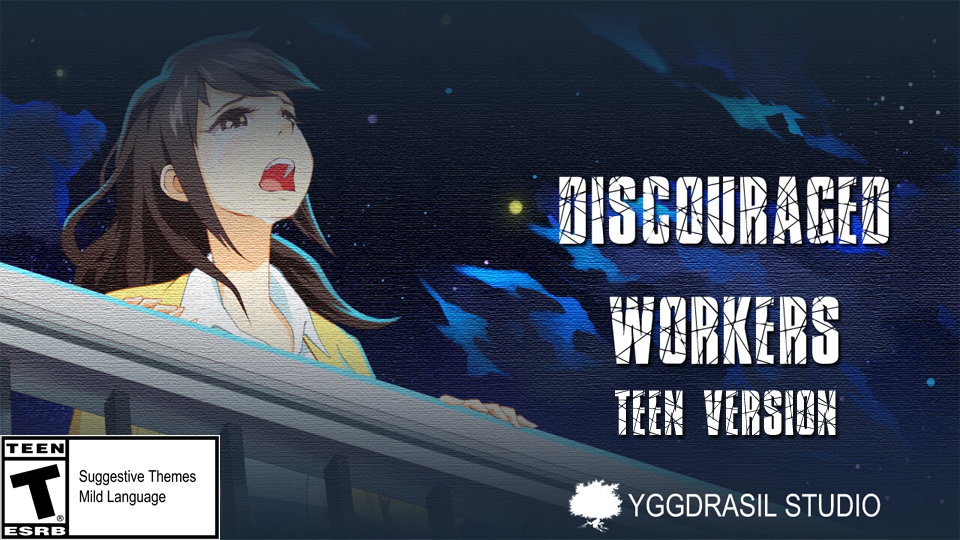 Discouraged Workers TEEN Version

Happy New Year!
Hello Guardians,
Yunseok is here. Discouraged Workers TEEN has been updated on Itch. Hope you like it!
Minor Update
Update: Version 1.7.8.731 > 1.7.8.813
Update: Ren'Py Engine 6.99.14.2 > 7.1.3.1092
Added: Some Python packages(for News)
Added: News system
Added: Ending credits for mobile versions
Improved: Android support
Improved: Code optimization
Fixed: Now the Ga-yeon on the bridge is not cutting by the mask according to device's performance.
Fixed: Russian Ending Credits
Fixed: Now on mobile, Russian Ending Credits will be output in English
Fixed: Copyright
If you have any problem or found a bug, please let me know it. Thank you for read this article. I'll be back soon!
Files
Discouraged Workers TEEN V1.7.8.813 for Linux(TAR.XZ)
150 MB
Jan 05, 2019
Discouraged Workers TEEN V1.7.8.813 for Mac(ZIP)
152 MB
Jan 05, 2019
Discouraged Workers TEEN V1.7.8.813 for Win(ZIP)
152 MB
Jan 05, 2019
Discouraged Workers TEEN V1.7.8.813 for Android Mobile/Tablet(APK)
155 MB
Jan 05, 2019
Discouraged Workers Demo
124 MB
Mar 11, 2018
Get Discouraged Workers TEEN Version